Things I love:
1) Fall
2) Getting stuff in the mail
I recently joined forces with Kristie and Dana to put together an Autumn Swap for bloggers. Kristen paired me with Amy, which I was super excited about because we had swapped boxes earlier this year for Valentine's Day! Amy is so much fun to swap with because she is a really good shopper! We have a lot in common like our love for Paris, scarves, and being in love.
Even with a whole different time of the year to celebrate, Amy did an awesome job finding things I love about fall:
Scarves on scarves on scarves. Amy has amazing taste in scarves. One of my favorite scarves is one that she bought for me for Valentine's Day. Now I have these three scarves to add to my collection.
I'm so excited about these awesome fall treats. I can't wait to make caramel apples with Jon! What a fun date-night-in idea!
All of these fall-scented candles smell so amazing. When I opened the box, my nose was filled with the sweet aroma of fall. Love it!
Dog treats for Molly! When I pulled these out of the box and showed them to her, she was up on her hind legs trying to get one. How adorable is she in this picture? This was taken right before she got to taste the treat for the first time. She devoured it.
Thanks so much to Amy for such a great box! I'm enjoying all of my fall goodies!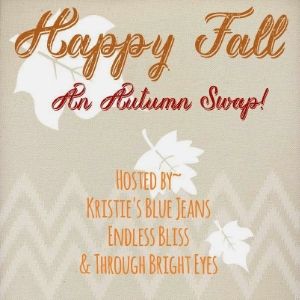 What are your favorite things about fall?