While some people were BBQing or visiting with family to celebrate the three-day weekend, I was in bed or on the couch most of the time, just how I wanted it.
Friday
Oh hey
Gossip Girl
. I'm on season 5 now. Soon my mentioning of
GG
will cease. I really do enjoy my
GG
nights in bed just cuddling with my stuffed animals. (Am I pathetic? Just a little?) While I was lying in bed, I
Saturday
I started my day by PAYING FOR MY TRIP TO EUROPE WITH MY SISTER! I'm so freaking excited (hence the all caps). My sister and I are officially traveling to Europe on June 22,2014, the day after she turns 18. Happy graduation to her. Yay Europe for me. We're taking
this trip
to London, Paris, and Rome. I'm already counting down the days (292 FYI). The deposit is paid and the confirmation email has been received. I just can't wait. OMG! AHH!
After paying for Europe, I took my sister to get a haircut. While that was happening, I went to the library (because I'm a nerd) and got four books. Then I got a text from my friend, Mandy, who said that she was coming to town! My sister and I drove the Boardwalk (where she was headed), and waited on her at Orange Leaf with the company of some froyo. It was perfect in the Louisiana humidity.
Whoever came up with the dividers for froyo cups, is brilliant! I indulged in some strawberry, cheesecake, wedding cake, and birthday cake ice-cream. Wedding cake was my favorite. Delish. I'm obsessed with marshmallows right now.
I only got to see Mandy for a few minutes. Her and her sister were shopping for a dress and a pant suit because her sister just got voted onto homecoming court at her high school.
After going home and watching college football for a little bit with my sister and step-dad, my sister and I went to dinner at The Real Pickle. It's this really cute sandwich place in Shreveport with names with sandwiches like "I Bird It Through the Grapevine," "Once, Twice, Three Times A Gravy," "Wiener Takes It All," and "Twist and Kraut." I ordered a "The Chicks in the Mail," which was a chicken salad with bacon, lettuce, and tomato on sour dough bread. It was delicious. We also ordered some chicken and waffle bites for an appetizer, and they were to die for.
The last stop was to a local coffee shop called Rhino Coffee. My sister and I both ordered an Iced Lightening. The barista let us try a sample (I said I wanted something cold and sweet). It was so good. I'm a huge fan of local coffee shops. I don't think Starbucks puts enough love into their drinks, plus it's not consistent everywhere you go. I went to Dallas and ordered a hot chocolate, and it was so gross. I mean, how can you mess up a hot chocolate.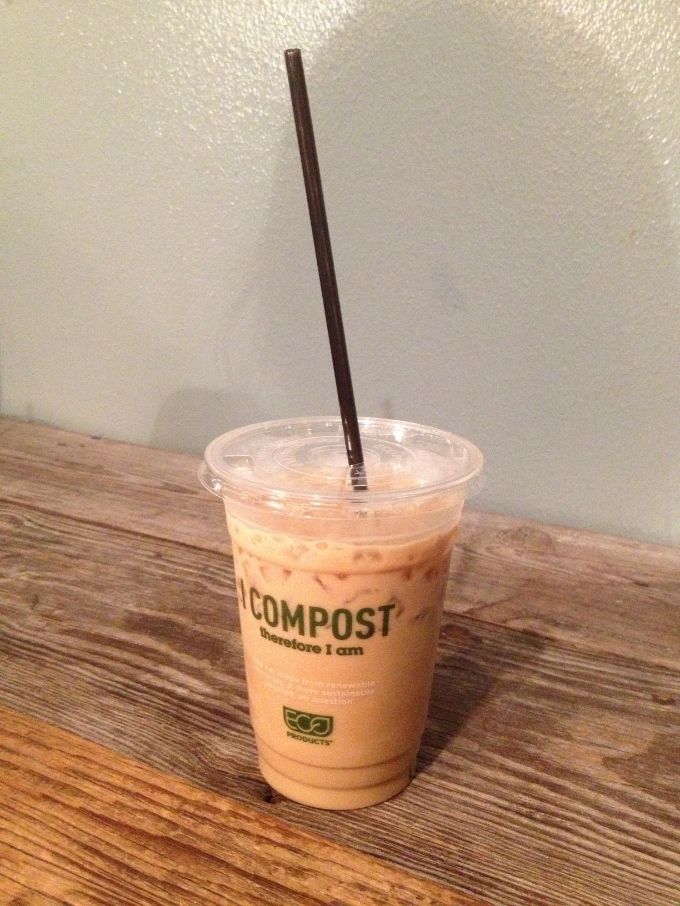 Why is that straw so big though?
Sunday
I had a lazy Sunday watching more
GG
(surprise surprise), chatting with my sister, blog stalking, reading (I just started
What Happened To Goodbye?
by Sarah Dessen), and writing.
Today, I'm going to my friend's friend's mom's house to go swimming and eat. I've been wanting to jump in a pool. Mhm. Happy Labor Day!